Wild Camping Scotland: A Beginners Guide
Scotland is one of the most beautiful countries in the world. From William McTaggarts powerful landscape paintings of Scottish coastal life to Sir Walter Scott's romantic descriptions of the highlands, Scotland combines varying influences to create its identity. What has always remained at the forefront of many perceptions of Scotland is the people's connection to its landscape.
More recently, many use wild camping to reconnect with nature and add adventure back into their increasingly busy lives. Thanks to the progressive Land Reform Act (2003), members of the public can enjoy the great outdoors easily, as long as they do so responsibly and respectfully. There are lots of amazing resources out there on what rules to follow when wild camping and where the best spots are. At Tiso, we get asked about wild camping a fair amount, so we decided to share our knowledge in one convenient place. So, if leaving home comforts in search of an outdoor adventure is your cup of tea – check out our Wild Camping Scotland: Beginner Guide below:
What Is Wild Camping?
Wild Camping differs from staying at your favourite holiday park. Instead of parking to pitch, wild campers carry their own kit and are completely self-sufficient out in the wild. You may choose wild camping to split up a tiresome multi-day hike or so you can wake up above the clouds to watch the sunrise. Whatever your reasons, wild camping is a fantastic way to truly experience the great outdoors.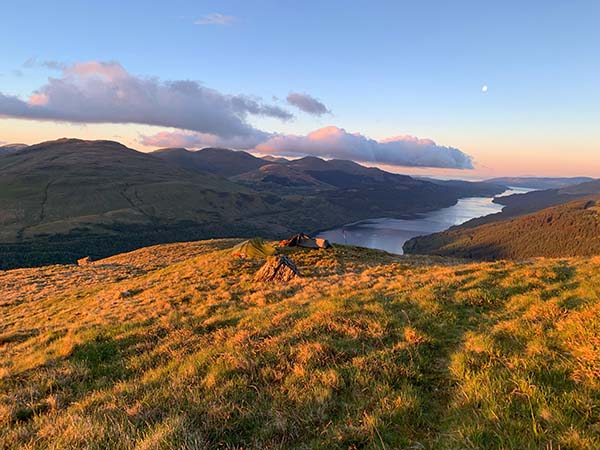 Is It Legal?
Just as camp sites have rules and regulations so too does wild camping. Across England, Wales, Northern Ireland, and Republic of Ireland – Wild Camping is technically illegal. Although there are no legal rights to cover these areas, certain locations and landowners allow exceptions, so it is best to research local rules before heading out.
For example, some National Parks in England have designated areas where wild campers are permitted. Check out Dartmoor's own guide to wild camping – or backpack camping as they call it – that features an interactive map to keep you right.
Legal Wild Camping: Scotland
As previously mentioned, Scotland has different rules from south of the border thanks to the Land reform Act (2003). Although we have freer access to the outdoors, it means we have been trusted to take care of the environment and should act responsibly. Here is a quick summary of the Wild camping Code:
1) Follow the Outdoor Access Code
2) Litter - Ensure all rubbish is taken away with you and disposed of appropriately after your trip. Consider lifting other litter along the way.
3) Fire - Wherever possible, use a stove rather than an open-fire. Never light an open fire during dry periods or in sensitive places like forests or peaty ground.
4) Toilet - Take care with toilet hygiene and try to use public toilets where possible. Ensure you lift all baby wipes/toilet paper and dispose of appropriately.
5) Leave No Trace - Leave no evidence to suggest you had stayed there. This means leaving no equipment, waste, food packaging, or general rubbish out in the landscape. This can damage wildlife habitats, the environment and spoils the setting for other visitors.
What To Pack When Wild Camping
Now for the fun part, what to include on your kit list!
There are lots of shiny toys you could use when heading out for a wild camp, however, at the end of the day, you need kit you can rely on. For camping in Scotland, it is essential that you are well prepared for any landscape and weather condition. You must also be confident in your ability to survive in an emergency, particularly when far away from civilisation.
Perhaps our most asked question is – What size of rucksack do I need when wild camping?
This depends on your equipment and trips needs; however, a good rule of thumb is the 50L-60L mark. You want to make sure you are only taking the essentials, that way your pack won't be too cumbersome. This is also why we mention pack size of products, as that way you aren't wasting space in your rucksack with bulky equipment.
Comfort is key with your rucksack; you will be wearing it all-day after all. We recommend packs with large, padded hip belts and cushioned shoulder straps to help efficiently disperse the heavy load. You want the hip belt to carry most of the weight, then you avoid getting red shoulders and an aching back.
A large internal section will hold most of your supplies. It's also nice to have a lid, side pockets and smaller external pockets to stash items you may need often like a map or water bottle. Most multi-day rucksacks have a variety of straps and buckles to help attach items to the outside of your pack too i.e sleeping mats or tents. They can also be used to compress and stabilise the pack, ensuring you have the comfiest set up possible. It is extremely important you find a correctly fitting rucksack to help prevent injury and make your trip as comfortable as possible.
Why not pop into one of our stores and have our expert staff help you try on a few rucksacks from our range?
Lets start with your shelter for the night.
Whether you are camping solo or as a duo, you want a tent that is lightweight yet tough. As you are carrying all your kit, you want a tent that can pack down while not weighing you down. Look out for the hydrostatic head as well as this will guide you with how waterproof the tent will be.
Why not try a tent like this Wild Country Helm Compact 2?
It is a well-proportioned, free-standing 2-person dome tent perfect for those looking for a little more space yet a compact pack size for easy carrying. With a weight of 2.35kg and a pack size that measures only 32x21cm making it easy and versatile for packing into rucksacks or panniers. A good choice for a couple nights wild camping or medium length bike packing trips where more space might be preferred.
For a more in depth look at our wild camping tents, check out our buying guides for top solo tents and top duo tents
Sleeping bags are not to be overlooked. They are essential at keeping your core body temperature up as night falls which helps keep you well rested for the next day. Like tents, it is important to consider what specifications meet your needs in terms of the weight and pack size of a sleeping bag. Another important consideration of a sleeping bag is the materials used to produce its comfort ratings. Down filled sleeping bags offer excellent weight to warmth ratio, however, synthetic filled sleeping bags are easier to care for and can handle moisture a lot better.
A great starting point for sleeping bags is the OEX Helios EV 300.
Filled with water-repellent duck down, the Helios is a great, very warm, and very lightweight 3 season sleeping bag. Thanks to its feather fill, the sleeping comfort rating is 3 degrees but can keep you safe in temperatures as low as -19. Weighing only 750g with a pack size of 49 x 60cm, this a great choice for size conscious wild campers.
Now it wouldn't be a perfect night's sleep without a comfy sleeping mat.
Sleeping mats come in all different shapes and sizes but their main purpose remains the same: to provide a comfortable sleeping platform and offer some insulation from the ground underneath.
A personal favourite of ours is the Therm-a-rest ProLite Apex.
This incredibly comfortable self-inflating mat offers packable performance and premium support. At 5cm/2 inches thick, it feels like you are sleeping on air when using the Prolite Apex. Did we mention it packs down smaller than a kitchen roll? How's that for easy packing.
When you have been out walking all day, the last thing you want for dinner is a flattened sandwich. Using a small personal stove is a great way to have a hot, cooked meal to keep you fueled and boost morale.
This ultralight stove can boil 1 litre of water in 3.5 minutes. Perfect for long-distance treks and wild camping adventures where space and size are crucial.
Often overlooked, pots are just as important as the stove for a successful outdoor dinner. Pots and pans come in all shapes and sizes, so you want to choose something with a decent water capacity that won't be awkward to stash in your backpack as well.
There's nothing we love more than products that excel at practicality. The MSR PocketRocket 2 Mini Stove Kit is a prime example of functionality.
Weighing less than 300 g, the PocketRocket 2 Mini Stove Kit is an ultra-compact kit for the weight and space conscious. Everything you need fits effortlessly together, including the stove and gas meaning no space is wasted. Use it to make coffees, boil-in-the bag meals, or a Michelin star pasta – the choices are endless!
Now, we have all started campfires with some matches and patience before. But did you know you can use a Firestarter as a more efficient and weather friendly approach to lighting your stove?
Light My Fire - FireSteel BIO Scout 2.0
This will be your best friend for igniting fires in wet and windy conditions. Whether barbecuing or camping, the reliable Magnesium Alloy striker works for approximately 3,000 strikes. You no longer need to worry about snapped matches filling up your pockets.
It's all very well having the kit to rustle up a tasty campsite meal but how do you take all the ingredients? Some people like to stick to traditional instant noodles and pasta. This is great and can easily hit the spot after a long day outside. However, if you want to spice up your dinner, why not try some of our freeze-dried meals? Lightweight, nutritionally balanced and mouth wateringly tasty, these meals only require boiling water to make and help keep all the mess in one place.
How does a Real Turmat Chicken Tikka Masala sound?
Real Turmat are a Norwegian company that make high-quality freeze dried expedition and wild camping food. They make it easier to enjoy tasty food outdoors. Easy to carry, easy to prepare. Just add hot water.
Don't forget you'll need something to eat it with too! Like this Light My Fire Spork
Emergency Supplies
We often get comfortable visiting the hills. Maybe we have walked the same route before. Or maybe it's a sunny day and you don't plan on being out for long. No matter your experience, it is always important to be prepared for an emergency, especially when wild camping.
Here is a list of the extra bits'n'bobs we think are important to include on your mandatory kit list.
Emergency Shelter
Designed to be used as emergency shelters or blankets during bad weather or unexpected stops. Lightweight, windprood and sometimes waterproof they are a must for staying safe in the outdoors. Shop Emergency Shelters
First Aid Kit
The best way to carry all essential items that enable you to deal with common injuries effectively. Shop First Aid Kits
Map & Compass
A sure way to know where you are and where you are going. A map and compass are essential for avoiding dangers without relying on modern technology. Shop OS Maps & Shop Compasses
Headtorches
Ideal for early rises before the sun or setting up camp in the dark. Shop Headtorches
Water Purification
Instead of boiling water to keep it clean, pop some water purification tablets in your bottle to keep your water clean and refreshing. Shop Water Purification
Wild Camping offers the mind a place to switch off and enjoy life. It strips life back to basics and encourages you to connect with nature. Whether you have summit camped all your life or you now want to explore outside the comforts of a traditional campsite - there is a wild camping adventure awaiting you. As you can see, there are some crucial pieces of kit to consider when it comes to wild camping safely. If done properly and responsibly, the kit will look after you and you will end up with some great stories to tell!